Not happy with your email performance?
Have you got sucky opening rates?
Worse than average click-through rates?
Zero engagement?
It's alright, I did too. Because I was super lazy
Until I made some drastic changes. And within one month, my email opening rates doubled and tripled, my click-through rates exploded and the engagement went through the roof.
Here's what I did…
Step #1 — I switched platforms.
My email marketing love-hate relationship goes back years.
Here's a list of email platforms I've used:
Aweber—Office Autopilot—Aweber—Mailchimp—Get Response—ConvertKit.
And now, I've FINALLY come home. *ConvertKit is killing every other service I've used in the past. Its platform is designed for simplicity and results (*denotes affiliate link).
CK has excellent customer support, is designed for people like me and rewards you for wanting to do email marketing right—by NOT charging you double for subscribers (like many platforms do when you have people subscribed to several lists).
CK is perfect for burnt-out casual email marketers like me who needed a compelling kick up the ass to get serious.
Step #2 — I got clear on my email marketing purpose.
Up until that point I had just sent emails to my list whenever inspiration struck me—sometimes weekly, other times monthly and during launches up to four times a week.
As you can imagine, the lack of consistency didn't work so well. So my list was stagnant for years. It didn't grow. And in hindsight I know why: I didn't nurture my subscribers.
I was inconsistent (aka lazy).
I made the list about ME instead of THEM!
Lesson learned. Today's emails are structured and purposeful. I started working with a strategic plan, instead of succumbing to infrequent bursts of inspiration.
Step #3 — I stripped away the fancies and focused on bare essentials.
I stripped away everything from my emails that:
Bloated the design and risked being labelled as "Spam."
I got rid of the pretty header.
I eliminated the sidebar.
I stopped using images (most of the time).
I no longer include social media buttons and other fancy design elements.
I went back to bare essentials.
That alone immediately increased my opening rates.
My emails are more personal now—kinda like a personal letter you receive from my heart to yours. It made a huge difference in and by itself.
Step #4 — I got better at teasing.
I got serious about using strategic persuasion hacks to increase my email opening rates.
The whole purpose of a subject line is to get your emails opened. So it makes sense to spend a little more time crafting better subject lines that actually get clicked.
And if they do…
Goal achieved.
Would you agree?
Step #5 — I went serial.
Late in 2015 I did a little email experiment. I went serial
Nooooooo!
Not serial killer.
I started sending serialised content emails.
And the results?
They speak for themselves.
Check out the before + after screenshots below…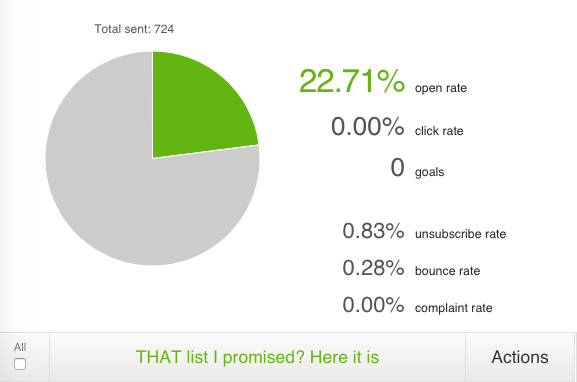 The first graphic above shows an open rate of 22.71% (before the serialised emails went out)—it was sent to 724 subscribers.
The second graphic shows the results after I segmented the list…
THAT email? It got a whopping open rate of 96.09%. This is almost unheard of!
This wasn't a webinar registration email or an opt-in to download something email. It was a regular newsletter, but sent with the sole purpose of increasing the open rate stats. And considering that labelling your emails as newsletter is lame as fuck I'm even more astounded.
I almost fell off my chair when I first saw this. And I knew… I was on to something…
But look what happened to the open rate when I sent them the first email in the series… (that's right, the general list email open rate went from 22.71% to 29.58%).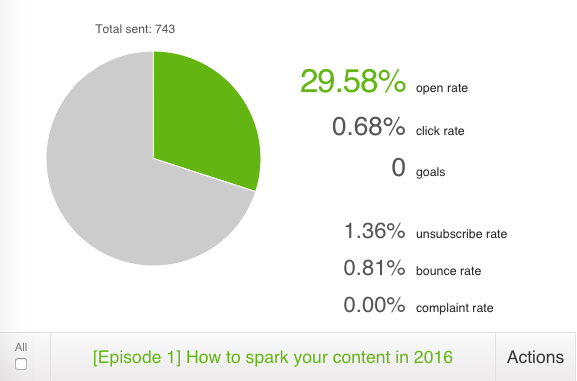 My test validated that serialised content works well. If you've never utilised serialised content in your email marketing I suggest you get started.
I moved to ConvertKit early March 2016 because I wasn't 100% happy with my old program and my email open rates and click-through rates have already doubled or tripled.
Below is just a sample of some of the results:


As you can see, I didn't make massive changes. I just changed a few things and got more serious about engaging my subscribers, by giving them what they (really) want.
And when you think about it for a second, it is only a start.
Which of these steps will you implement into your email marketing this week?
Not sure you can get 80%+ email opening rates? Let's talk and see how I can do it for you instead. I can offer you a no-pain done-for-you service to take care of your utmost urgent email marketing needs and help you spark that trust that is so essential for any business transaction.