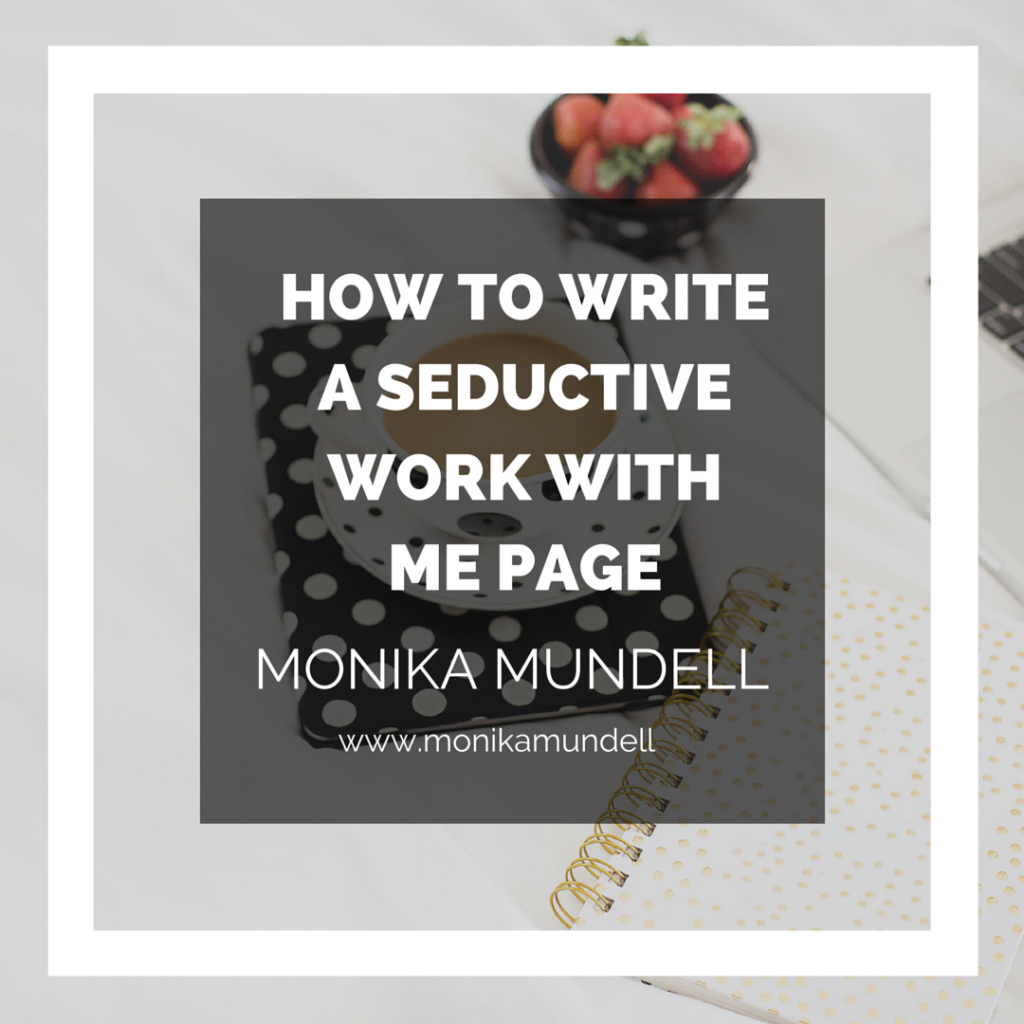 Do you feel like sassing up your brand persona?
Do you want to dig deep into your word-smithing temptress, to lace your Work With Me page with your irresistible personality?
OH yeah baby!
Stick around and I'll show you right now how to add more drip-teasing syllables, spellbinding words, and sultry emotions to your page…
Your dream clients will succumb to the pleasure and tingling of the seductive promise in your marketing, and climax at the thought of working with you.
DOWNLOAD THE ULTIMATE COPYWRITING SWIPE-N-GO CHEAT SHEET AND START TEASING YOUR READERS INTO A BUYING FRENZY
YESss!
Here's the whole seductive shebang to have dream clients scream your name in sweet anticipation.
Give 'em what they want!
Your Work With Me page must solve an urgent problem, and promise a desired outcome for dream clients.
When you position your offers, only do so after you understand what you're (really) offering to your tribe.
A business coach doesn't sell coaching: she sells confidence, peace of mind, and clarity… amongst other things.
A public speaker doesn't sell an event: she sells the benefits of what she teaches from stage… things like: more profits, getting booked to speak, magnetic presence, a step-by-step 6-figure business model, etc.
A web designer doesn't sell websites: she sells emotions, credibility, stronger brands, etc.
Get really clear on how your offer helps dream clients' live better, happier lives, and then weave those emotions into your copy.
DOWNLOAD THE ULTIMATE COPYWRITING SWIPE-N-GO CHEAT SHEET AND START TEASING YOUR READERS INTO A BUYING FRENZY
Style 'em up.
Use your own Brand Word Style Canvas to add irresistible lure to your writing. This canvas is a collection of words that speak to you + your dream clients.
It's your personal style of writing, a sumptuously lethal visual love bomb that shatters their objections + hits them right in their HEART.
Make 'em beg for more.
Scarcity works well on your Work With Me page. I suggest you limit your offers to three. Less is (definitely) more.
Scarcity creates more demand.

Scarcity raises your expert profile.

Scarcity sells easier.
But what do you do when you offer services + coaching? Like me? Well, you simply create two to three offers for each section of your business and run with those.
Write your page so it describes the perfect afterglow high.
When you write your copy, get specific… down to the between the sheets action specifics. Your words need to illustrate the outcome – and describe the perfect afterglow high for the client.
Name your price.
Don't skimp on positioning your value. Now that you've got 'em watching your every move with hungry eyes they'll want you… and ONLY YOU for the job at hand.
They'll want you because you've positioned yourself as the go-to expert.

They'll want you because you've proven your expertise.

They'll want you because you demonstrated why and how you could help them solve an urgent problem.

And they'll want you because they like you + trust you by now.
Whether you prefer to list your prices or not is… entirely up to you. Me? I prefer to list my package prices because I appreciate seeing those on other people's websites too. I'm all for total transparency, because it helps build trust.
However, I never list prices for customised work, because well… the work is customised, and every client has different needs.
Create a possibility for climax.
Invite readers to work with you at the end of every earth-shattering offer. Tell 'em what to do next so they can find sweet relief by taking that urgent next step.
And that my love is how to write a seductive Work With Me page that makes dream clients scream your name in sweet anticipation.
Tell me, in the comments below how you're going to makeover your Work With Me page with these tips.